Reverbnation a waste of time, don't bother.
As I continue trying out different "distribution" and/or 'promotion" services for musicians, the list of bogus services grows longer. Reverbnation is yet another one. Do not even bother with the free version (and definitely don't waste your many on any of the paid "services"), it is appears to be completely bogus and an absolute waste of your time...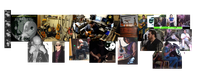 I'm actually not bitter, despite the heading maybe seeming so. I have been trying out a number of services that many blogs already indicated were at best useless, and really most are outright scams.
Reverbnation is yet another one for the bit-bucket.
The numbers are bogus, even when "#1" in local, and regional, and nearly one nationally, and fairly high globally, it made almost zero difference in real traffic. This just illustrates that they are using concocted bogus numbers (as many others have reported).
The way to get your numbers up is basically just log in a lot, post a lot, and the more you pay the higher your rank. It has nothing to do with any actual audience building (from all I could tell). If I was more active, my numbers went up on their site, but the trackers I setup and embedded in RN and elsewhere, showed the RN numbers were a complete lie. So stay away from reverbnation.com 
And paying will not help you in reality. It will raise your useless rank, but not actually get any new real listeners and real fans. At best bots.
So, save both your money and time (no surprise there), and cross reverbnation.com off the list of sites to consider for trying to help musicians build listeners and fans.
You are far better off just using your own websites, social networks like Facebook (gack! I can't believe I'm writing that!), Google+, and I think best is Twitter (because least crappy social network service).
And to get real listeners, sites like soundcloud, bandcamp, and hosting your own music will get far more real (although they have their fair number of bots) listeners and fans, that will actually reply to your thank yous.
I'm still evaluating RadioAirPlay.com
I have played with both the free service, and did one month test of higher paid service (and racked up a lot of "play credits"). 
I am not sure yet how real or fake those listeners and fans are. 
I went back to the free model for now (only one song), since my funds are tight right now due to medical bills coming in.
And meanwhile Distrokid is purring along. Zero sales, some weird graphs on Spotify for streaming. Still trying to figure out what is going on there.
I know IndieAirRadio.com is definitely legitimate. I have met the owner in person several times, been to his home studio, and he and the community there are very kind and supportive. 
Unfortunately I am still at zero reviews of any of my music, and still zero sales and zero subscribers.
This has nothing to do with the legitimacy of the site per se. I am afraid that most/all of their listeners are probably fellow musicians.
I don't know how many are actually non-musicians, but it is the typical chicken and the egg problem. It is a very difficult business model they are trying to pull off in a horribly flooded market.
I wish nothing but the best for them.
I keep hoping (and trying to help them) things will turn around for their very good intentions.
Their website is unfortunately very poorly designed, and the weird uses of their CMS is puzzling, but I think it is because they aren't techies at all. They also keep killing and overwriting their links, which is VERY BAD FOR SEARCH ENGINE PLACEMENT. I have tried to point this out to them. I hope they figure out that they need to keep their pages valid to get better results. When they keep removing, overwriting, or changing their pages around, it kills their potential web traffic results alas. I wish they had a budget to employ someone like a good ol' friend (though we've been out of touch for some time) of mine from the Tolkien world, Michael Martinez, who is also an Uber SEO specialist. If IAR gets the money, they should consider buying his services, and they will do much, much better (if they follow his advice).
Anyhow, I am probably going to be mostly offline much of this summer. Though I will respond to direct email messages, tags that alert me email, and text/calls on my cell phone.
I'll keep people posted when there is more to report.
Again, stay away from Reverbnation, even free they are a waste of your precious time you could be spending making music or building your fan base more effectively.
Wherever you may be, BE well!
-Hawke (Synthetic Zen).