New Live Music Broadcast 16 by Synthetic Zen
If you missed the 16th live musics broadcast test, you can catch the recorded video and/or audio here. This is a mostly chill 50 minutes of music. Enjoy!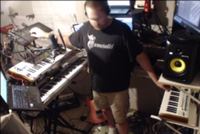 Summary
Soundcloud (edited out the talking and some of the technical glitches): https://soundcloud.com/syntheticzen/synthetic-zen-live-broadcast-improv-test-16-2016-09-01-00-51-17-d
Youtube: full unedited video of live performance: https://www.youtube.com/watch?v=9WLy_7Ej06c
More detailed information
Streamed live on Sep 1, 2016
Test Broadcast #16. Recorded & live performances of original and inspired music by Synthetic Zen (Hawke Robinson).
50 minutes of nearly continuous, improvised, mostly mellow, live, music. Enjoy! 
Music starts at about the 1:10 mark.
Apologies for the occasional technical errors throughout, that is why these are still "test" broadcasts.
http://www.syntheticzen.com
http://twitter.com/syntheticzen
http://youtube.com/thesyntheticzen
https://www.facebook.com/syntheticzen
https://www.tumblr.com/blog/syntheticzen
https://plus.google.com/+SyntheticZen
Roli RISe Seabridge 25 - USB - Microsoft Surface Pro 2, Windows 10 (should try bluetooth at some point), Roli Dashboard, Roli Equator.
Arturia Lab 49 - USB - MacBook Pro 2012 - Logix Pro X - Arturia Lab 2.
Arturia Factory 32 - USB - Alienware M11xR2, Windows 7 - Arturia Lab 2
Casio Previa PX-310+ - Roland MIDI to USB - XPS M1330n, OpenSue 13.2, Jack, ZynAddSubFX, Rosegarden.
All above plugged into Tascam US-2000.
Tascam phone jacks out to XLR inputs 1 & 2 on Focusrite Scarlett 2i/2 - USB - Asus ROG
Asus ROG, OpenSue 13.2, using Open Broadcast Server (OBS).
Listening to stream through Youtube on Chrombook 2011 Dev / Beta Mario, ChromeOS.