New Music from Synthetic Zen's Album "Zentropy" - Can You Hear Me?
The first official track from my new 2015 Zentropy album in the works. I took a chance and composed something that is probably in the "Trip Hop" category. A little different from my other pieces, but also definitely in the Synthetic Zen realm. Hope you enjoy!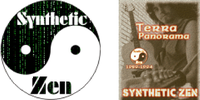 Check out "Can You Hear Me?" from the first track of Synthetic Zen's new 2015 Zentropy album:
Wherever you may be, BE well!
This is my first dabble into Trip Hop. I had avoided even listening to that style in general because most I had heard were more rappish (didn't care for that), but then I started to stumble across some more musically interesting pieces in that genre on sound cloud, and began to enjoy some of them (avoiding the rap-based ones).  How do folks like this first stab? I think I am going to cut the duration in half.