My Instrument Collection
This is a work in progress. It will take a while to list everything, but I will keep updating this posting (with photos) as time allows. Here is a list of the instruments I currently have, and the status of playability for them currently....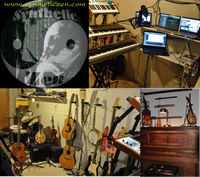 Stringed instruments
(proficiency level in parentheses)
Yamaha CG-120 classical nylon acoustic guitar (intermediate)

This is my first guitar. It was a Christmas present from my mother in 1988. It has been through much use, and the top of the head was actually accidentally run over once by someone. It still worked after, but had some bent keys. I finally replaced those keys a few years ago. It has a wonderfully warm tone, I play it almost daily, often to play myself to sleep.
Fender 12 string acoustic steel string (intermediate)

Until I bought the Ovation Celebrity, this 12 string was my main travel guitar for several years. When I was without transportation in the late 80s and early 90s, I had this strapped to my back everywhere I walked or using the bus. People started to call me "that guy with the 12 string" all over the greater SLC, UT valley. It has a thicker and wider neck than other 12 string, more comfortable for my "ham hands" from my mechanic days. It has both a rich and bright, vibrant timbre. I love playing it, and it once tuned it holds the tune well, but can be a pain to tune, and becomes a challenge to play for any longer periods of time since I use a heavier gauge. When I was in the cheesy slasher movie "A New Momma For Bubba",  there was a scene where I played "Wild Thing" take after take. It ended up being around 6 to 8 hours of takes, oh boy was that exhausting with that guitar. :-)
Fender Stratocaster Squier 6 steel string electric guitar (intermediate)

My first electric guitar was a terrible white Peavy Falcon knock off of a Fender. It would go out of tune at the slightest provocation. After it did so in the middle of a concert at SLCC, I spent several weeks trying out guitars at every store in town, and finally settled on this Fender. I was able to slide harmonics, and it fit nestled in my hands wonderfully. It was at Holladay Music on 33rd in SLC, UT.
It was up high, collecting dust because it is carnation pink, not hot pink. No one would even try it. It had a price tag listed as: $1,800, slash, $1,400, slash, $800, slash $400. I was able to talk it down a hair down from that, with new strings and tuned up. In the mid-90s a friend of mine, Scott Bliss, worked at Fender guitars (previous to that at DOD pedals) in California, and he kindly souped it up with some nicer Humbucker pickups an dother tweaks. I have had to replace the Floyd Rose Springs 2 or 3 times over the years. I have also had trouble keeping the Whammy bar attached until recently fixing it all up. But it still plays great!
Fender Squier - Black & White
...
Ovation Celebrity acoustic-electric 6 steel string guitar (intermediate)

After several times being bumped by people while carrying my Fender 12 string, I finally had some money to get a guitar designed for travel and abuse, this Celebrity has been all over the USA, on my back on my motorcycle, camping in the desert and the high Rocky Mountains. The pickups are a bit tinny, but the acoustic side is nice.
Ibanez Soundgear GiO 4 string electric bass (intermediate)

Samick 4 string bass guitar (intermediate)

A cheap bass. I wanted to learn the bass guitar due to being inspired by Flea of Red Hot Chilli Peppers (RHCP). I painted on it the RHCP logo with the text around it "Flea is Funk is Flea" in a circle. Its not the best playing bass, and the picks and pots are getting finicky, but it does okay when jamming with friends.
Sitar (beginner to intermediate)
I spent more than a decade trying to track down a decent Sitar. Finally I found one at a store in Tucson, AZ that specializes in a lot of ethnic instruments. This was sold to him by someone that brought it from India. It is a genuine double-gord (2 resonance chambers) with 17 strings. It is both wonderful and challenging to play. I have a long way to go in getting better with it. I keep end up playing it in a rather blues style.
Mandolin
- Morgan Monroe "Rocky Top" 8 string

(beginner)

Banjo (beginner to intermediate)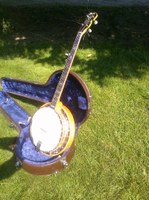 Charango Bolivian Uke/Guitar (beginner)

Viola 16" -
Ji Strings Model A-25 2008

(beginner)

Erhu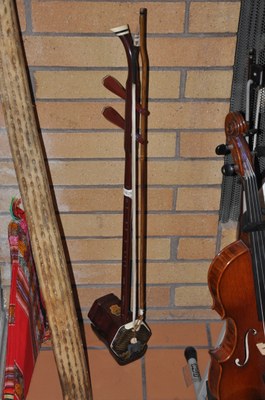 Dulcimer
Pianos & keyboards:
Upright (beginner to intermediate)

Keyboard - Casio Previa (intermediate)

Electric - Yamaha (intermediate)

Keyboard MIDI Controller - Arturia 32 Analog Experience (intermediate)

Keyboard MIDI Controller - 49 Laboratory (intermediate)
Keyboard MIDI Controller - ROLI Seaboard RISE 25 keywave (intermediate)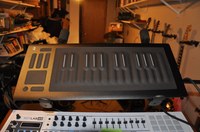 Kalimba - 7 key coconut
Wind

Dizi Bass G Chinese Bamboo Flute (Just acquired, now learning, March 2016)
Native American Wood flute, 6 hole, tuned to F# (intermediate)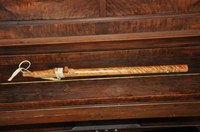 Native American wood flute, 5 hole, tuned to F (intermediate)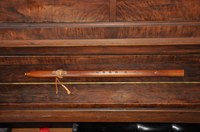 Native American wood flute, dual, holes, tuned to (beginner to intermediate)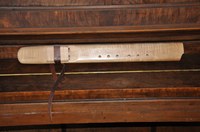 Native American wood flute, huge, tuned to G (intermediate)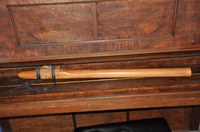 Irish / Tin whistles (C & D) (intermediate)

Didgeridoo (wood) (beginner to intermediate, but can't circular breathe :-(  )

Neh(s) (8 different pitches) (very beginner)

Mijwiz (beginner to intermediate)

Pakistani horn (beginner)

Japanese Shakuhachi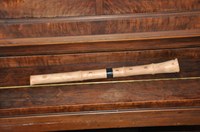 Harmonica - standard (intermediate)
Harmonica - chromatic (intermediate)
Chinese Hulusi (gourd flute)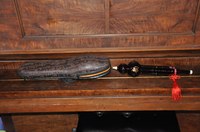 Andes Double Pan Flute, straight (Zampona)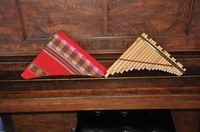 Percussion:
African Djembe (beginner to intermediate)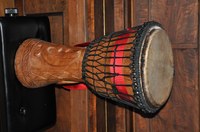 Small Djembe
Bodhrán Irish Drum (beginner to intermediate)


Gathering/Pow Wow Drum
Variant Gathering drum
Talking Drum
Ocean Drum
Chilean Rain Stick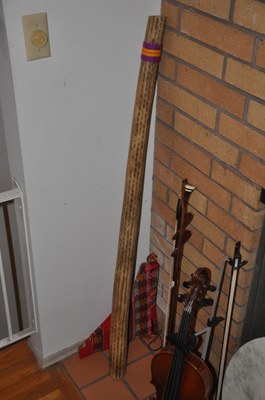 Boomwhackers
Cowbell
Hoop Drum
Claves (Latin White Wood)
African Axatse gourd shaker
Remo Fiberskyn 3 22" Diameter 2.5" Depth Frame Drum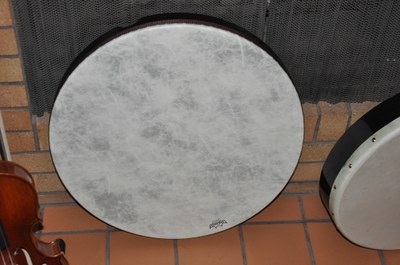 Tambourine
Egg Shakers
Seed Shell Shaker
Foot Tambourine
Bamboo quasiGuiro/Frog
Yamaha 4 pad Drum Machine (intermediate)

Ludwig drum set (beginner to intermediate)

Other:
Jaw Harp
Tibetan Meditation Bowl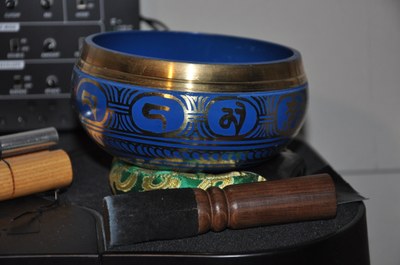 Meditation Chime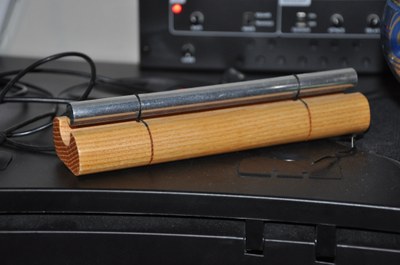 Electronic
Moog Werkstatt-01 - Moogfest 2014 Kit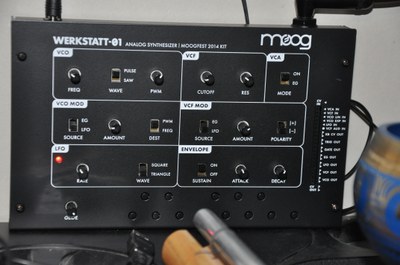 Korg Volca Keys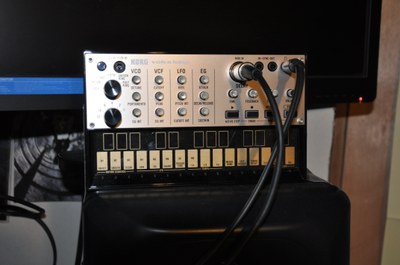 Mixers
Tascam US-2000 USB 2.0 8 channel 12 input mixer


Alesis 1622, 16 Channel mixer

Focusrite 2i2 Mixer & USB input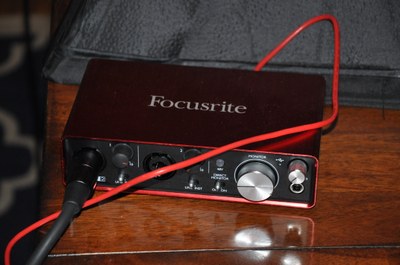 Focusrite 18i20 16 Mixer & USB input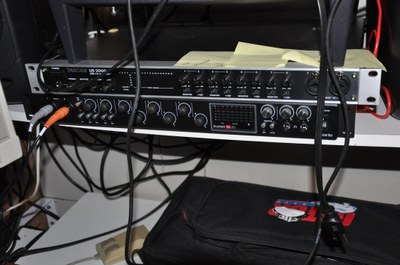 Microphones
Shure SM57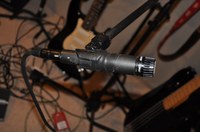 Audio-Technica ATR30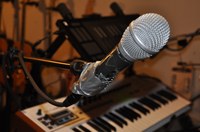 Audio-Technica AT2035 Cadioid Capacitor Microphone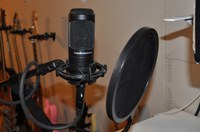 USB .... Mic
Computer and software
Dell XPS m1330n (2008?) dual core - Linux, OpenSuse
ZynSubFX
Rosegarden
Audacity
....
....
....
Asus ROG - Linux, OpenSuse 13.2 (24 GB ram)
BitWig
Audacity
ZynSubFX
Rosegarden
JACK
Apple PowerBook (2013 15")
Logic Pro X
Bitwig
ROLI Dashboard
ROLI E.....
 Arturia V Collection 4
Spark v2 software
Alienware M11xR2 (
Windows ....
Vocaloid
....
....
....
Microsoft Surface Pro 2 64 (plus 128 GB microSD)
Bitwig Studio
.....
.....
iPad Pro 12.9
Voice
Vocals (Baritone / Bass) (intermediate)